HVAC Services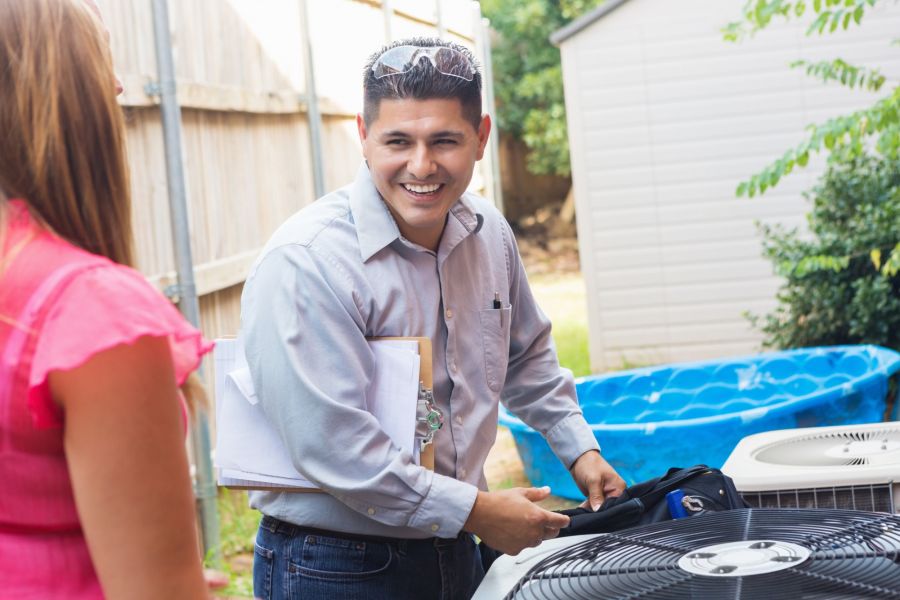 $85
A/C Tune-Up
expires 06/30/2023
No matter what the weather feels like outside, your heating, ventilation and air conditioning (HVAC) system ensures that your indoor climate is always comfortable. Since your AC and Heating system runs almost continuously, you'll want one that is energy-efficient, dependable and easy to maintain. Barone's Heat & Air, LLC is your go-to Heating & Air Conditioning contractor for the design, installation, maintenance and repair of residential and commercial HVAC systems. Since 2009, we've used our technical knowledge of HVAC systems to deliver pleasant indoor living and work environments for local property owners. Call us today at (417) 232-0017 to discuss any of your AC and Heating needs.
---
Call for a FREE Quote
---
Expert HVAC System Design and Installation Bring Lasting Comfort
Your HVAC system's design must be carefully chosen, or you'll always have problems getting comfortable. This includes the type and layout of your system's duct work as well as the size of the Heating & Air Conditioning system. As an experienced HVAC contractor, we take a number of factors into consideration before generating a design that is right for your new construction space. For residential projects, we look at your home's size, layout, insulation type and geographical location to design the appropriate heating and cooling system. We calculate HVAC system sizes in accordance with ACCA standards and choose systems that provide you with the best long-term value.
Extend the Life of Your HVAC System with Periodic Maintenance
HVAC systems can last up to 15 years when properly maintained. When left neglected, these mechanical systems can and do break down at the most inconvenient times. To avoid system failures during sweltering summer months or the frigid winter season, call Barone's Heat & Air, LLC at (417) 232-0017 to schedule your next HVAC service appointment. During these service calls, we inspect critical HVAC components, clean condenser coils and replace filters. As part of our extended services, we also clean ducts and vents to keep your indoor air as clean as possible. As a general rule, you should have your AC and Heating system serviced yearly.
Stress-Free HVAC Repair and Replacement
During our 14 years in business, we have earned the trust of customers through our professional knowledge and uncompromising integrity. Our technicians maintain their skills through regular training, and many are factory certified to work on the industry's most recognized brands. As a result, Barone's Heat & Air, LLC employs engineers who can repair any HVAC system whether it was purchased from us or from one of our competitors. We also offer expert advice about HVAC replacement when your current system reaches the end of its useful life. If your Heating & Air Conditioning system has failed or is not working optimally, give us a call at (417) 232-0017 to restore comfort to your home or office building.
Three Reasons to make Barone's Heat & Air, LLC your HVAC Contractor
Experienced Staff – An industry leader since 2009, the fully trained staff at Barone's Heat & Air, LLC have years of experience. Ask about our list of references and talk to our satisfied clients, covering both the commercial and residential markets.
Prompt Service – Barone's Heat & Air, LLC promises prompt service. Hire a dedicated HVAC contractor that will arrive on time and provide the attention your project deserves. Call Barone's Heat & Air, LLC at (417) 232-0017 for swift service you can count on.
Up To Date Training – Barone's Heat & Air, LLC technicians work hard to stay up to date with the latest information on HVAC equipment and mechanical designs, providing you with the knowledge and expertise to make wise decisions. As a leading HVAC contractor, Barone's Heat & Air, LLC is serious about staying on top of industry advancements, allowing you to maintain peak efficiency with your heating and cooling systems.
Barone's Heat & Air, LLC is an industry leader with years of experience, dedicated to prompt service and keeping up to date with the latest innovations in heating, cooling and air quality systems. Call Barone's Heat & Air, LLC at (417) 232-0017 to arrange for a site visit and get the region's leading HVAC contractor on your side.
---
Call for Fast FREE Quote
Dial Area Code first please.
---